"Writing instruction 30 years ago was a relatively simple affair: The typical assignment consisted of a few sentences setting out a topic, given in class and finished up for homework. Students were expected to write a page or less, to be graded by the teacher. Almost no class time was given over to writing instruction, or even to introducing the assignment."
Sound familiar? This description of a 1980s writing curriculum is unsettling similar to the practices seen in many ELA classrooms today. The US Department of Education has long recommended that students spend at least one hour of each class day writing, but a 2016 study found that only half of third through eighth grade teachers had been adequately trained to teach this subject.
To better support all of your staff in building skilled 21st century communicators, consider making the following updates your district's instructional strategy:
1. Ask students to write in response to diverse, culturally responsive texts
Writing and reading skills go hand in hand. When a student isn't excited about the texts she reads in school, she's unlikely to invest time and energy into the writing process. The textbooks and reading lists featured in most reading and writing curriculums around are rarely culturally responsive, and often reinforce harmful hierarchies of race, class, and gender. In a keynote address at eSpark Learning's eLead conference, Apple Distinguished Educator Ken Shelton exposed the inequity of these types of resources. Citing textbooks that refer to European colonization as "exploration", Ken Shelton said that static texts are often inaccessible, containing information that is "skewed, inaccurate, or there's an agenda behind it."
Rather than expecting students to become eager, thoughtful readers of texts that ignore or erase their identity and experience, districts will find more success incorporating texts into their curriculum that are culturally inclusive and relevant to students' lives. Online texts allow districts to continuously evolve their curriculum to reflect timely issues and the changing interests and needs of their student body. What's more, digital media like podcasts, blogs, eBooks, online articles, and even infographics give districts the opportunity to model diverse ways of communicating with today's audiences.
Don't have processes in place for vetting and curating online texts? Move this strategy offline by taking a cue from The Inclusive Library Project, a group of educators "on a mission to amplify the voices of inclusive authors & storytellers who affirm and celebrate ALL children's identities." Partner with your district librarian to select and showcase books that explore a diversity of identities and points of view.
2. Take an interdisciplinary approach to writing
Writing instruction and practice shouldn't be limited to the ELA classroom. Today's districts must embrace a culture in which every teacher is a writing teacher. "I began every math class by asking my students to analyze two pieces of student work and explain, in writing, which student was correct and why," says eSpark Learning's Kate Blackstone, a former 6th grade teacher who incorporated a similar strategy throughout the science and social studies lessons she taught.

Kate's interdisciplinary approach to writing is effective but can be intimidating to teachers who aren't confident writers themselves. For this reason Susan Hayward, Superintendent of Toledo's Washington Local Schools, recommends districts invest in training and resources that empower effective writing instruction across academic subjects and classrooms. "We need to give teachers time to collaborate. We need to provide extensive PD," advises Dr. Hayward.
By incorporating writing in its many forms throughout your district curriculum, you'll give students new avenues to academic growth and success. A student who struggles with creative writing might find that she excels at writing a science report, while a student working below grade level in math class could show surprising growth when given the opportunity to express his mathematical thinking through writing.
3. Celebrate students' writing, growth, and unique points of view
To motivate students to fully engage with every stage of the writing process, give them the opportunity to share their work with an outside audience. When students know that their work will be read by their peers, their community, an expert, or a public figure, they'll find purpose in their work and invest more time in the revision process.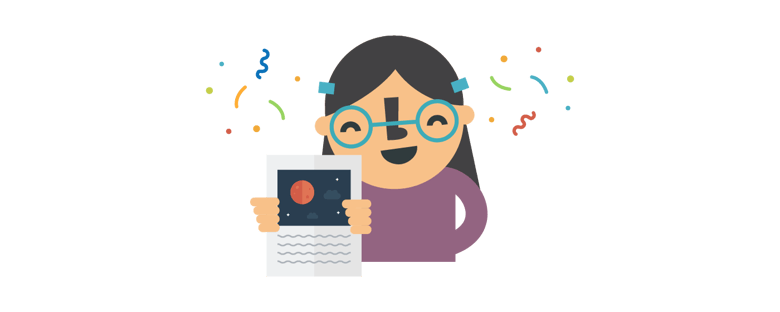 To get started, consider launching a few of the following initiatives in your district:
Host a district podcast, during which students read their own writing
Invite local authors to participate in writing workshops
Support students in submitting their work to literary magazines and national contests
Start a district blog that showcases exceptional student writing
Encourage students to exchange their writing with students in other classrooms or schools
Looking for more ways to introduce technology in the classroom and advance your reading lessons? eSpark offers thousands of student-approved, no-prep activities for online ELA instruction and practice.