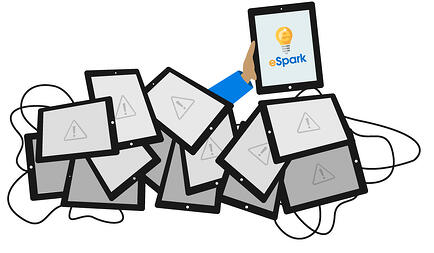 As iPads in the classroom become increasingly popular, administrators often run into many challenges with their deployment. Here are five of the most common hurdles and advice to help you avoid them when deploying iPads in your district.
1. Treating iPads like computers
Many administrators have experience with deploying computers, and figure that iPad deployment will be similar. However, there are many key differences between the two that are important to note.
Control Model
With iPads, teachers choose between a supervised and unsupervised method of control rather than having administrator and user accounts as they do on computers. Wondering how to choose between supervised and unsupervised? A supervised control model is recommended for use in schools, as it allows for an Internet filter and easier setup and app install processes.
Software
Software for iPads comes from the iTunes App store as opposed to coming from third parties (Adobe, Microsoft, etc.). In addition, purchasing the software is done through a Volume Purchase Program, through which schools receive a discount when buying large quantities of an app. On computers, purchasing is typically done by contracting with each vendor or signing up for a web service that issues accounts.
Hardware
New iPads only come directly from Apple, though used iPads can be purchased from a variety of vendors, such as Best Buy and Amazon.
Internet
The internet needs of iPads are quite different from those of computers. While computers can always fall back to Ethernet when there are too many devices in one place, iPads can only use Wi-Fi to connect online. This requires stable internet coverage throughout the school, especially if devices are used in a 1:1 environment.
2. Skipping the MDM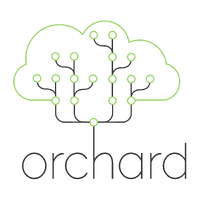 An MDM, or Mobile Device Management system, is a software that monitors devices deployed across multiple operators, such as numerous iPads in a classroom. If your school is planning to use more than a few iPads, using an MDM is highly recommended. Some of the benefits of using an MDM include:
Showing which devices have apps that need to be updated

Verifying if an app is installed on a device (and if not, the app can be pushed over the air to it)
Password reset capabilities
Using an MDM will highly simplify iPad classroom management.
3. Not having a curriculum
Without a solid curriculum, having iPads isn't as effective. In the words of eSpark partner Coachella Valley Unified School District's Rebecca Flanagan, "You have to put curriculum on the iPad or it doesn't mean anything."
Some popular options for iPad curriculum include iBooks, personalized apps by student, and educational apps. In order to create the most effective curriculum, take the time to do ample research. Simply picking the top educational apps in the App Store will not create a curriculum, as the apps may not be matched to the academic goals you have for students. Check out this blog post on blended learning for more information.
4. Not having a way to measure success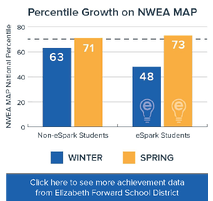 Many people come into an iPad program with high aspirations (rightly so!), but it is important to plan ahead to make sure the program has the effect you want it to have. In order to do this, you need to measure as you go! Using qualitative goals such as "students make academic progress" or "students are engaged" are not good measures of success.
It is important to have quantitative goals that are easily measurable. For example, "students see greater academic growth in eSpark as compared to the previous year, as measured by NWEA RIT scores" or "students grow 2x as much in their eSpark focus area as compared to other academic domains" would be good ways to measure success in an iPad program. Without collecting this data, it would be extremely hard to know the effect of your iPad program.
5. Poor professional development for teachers
Professional development should not simply involve a lecture to teachers on how to use iPads. What is most important is hands-on experience! Personalized professional development works best, as there are varying levels of familiarity with iPads within a given group of teachers.
Another important aspect of strong professional development is that it should be ongoing. Rather than only hosting a two-day session, iPad learning for teachers should continue throughout the school year. Teachers should have resources such as a help desk where they can go when they have issues in order to continue the learning process.
If you want to avoid these common mistakes when implementing iPads in the classroom, try eSpark in your school or district for free today.