In Grit: The Power of Passion and Perseverance, Angela Duckworth explores the accessibility of achievement, arguing that anyone can be a high performer with the right motivation, hard work, and support. In recent months, Dr. Duckworth's findings have been the subject of debate amongst educators. During her talk at the Loyola Law School, Dr. Duckworth clarified a few key points in her work.
Image Courtesy of The MacArthur Foundation
1. Grit can be accurately graded
Throughout her research, Dr. Duckworth asked students, athletes, and industry leaders to complete a survey that would measure their grit. "Like any self-report questionnaire, the Grit Scale is ridiculously fakeable," she writes in Grit, acknowledging the quantitative limitations of her work. In her address at Loyola, Duckworth recalled a professional swimmer asking her why his survey results indicated that he was less gritty than a teammate who practiced less than he did. Dr. Duckworth explained that even when answering questions about their habits and tendencies honestly, individuals have different standards of achievement, cultural norms, and work habits.
Some districts, inspired by Dr. Duckworth's TED talk but perhaps unfamiliar with the work she outlines Grit, have decided to evaluate school performance by student grit levels. Students in these districts are asked to fill out character surveys, and schools and teachers are evaluated based on how gritty these surveys show students to be. Dr. Duckworth warns that districts are jumping the gun on building character development into accountability systems, and in a recent article for the New York Times, she writes, "This was not at all my intent, and this is not at all a good idea." The established methods of measuring grit are subjective, and while grit increases a student's chances of achievement in an area of interest, passion and perseverance don't necessarily guarantee academic success.
2. Students can develop grit independent of outside support
In Grit, Duckworth explains that deliberate practice is an essential habit of gritty people. In order to engage in deliberate practice, a student must set an ambitious goal, focus on achieving that goal "with undivided attention and great effort," seek immediate feedback, and reflect on and incorporate feedback into his or her work. Deliberate practice is a cycle, and a gritty student would set another ambitious goal after successfully incorporating feedback into a final project. "You can't cultivate grit entirely on your own," said Dr. Duckworth during her talk at Loyola, acknowledging the importance of feedback from an expert or mentor. Teachers can respond to this need by providing students with immediate, thoughtful feedback on classroom and take-home work. Educators can ensure that feedback is dynamic by asking students to evaluate their own work before hearing their teacher's feedback, encouraging metacognition.
For students whose area of interest lies outside of the classrooms, the internet has made deliberate practice more accessible than ever. Through sites like Google Scholar and Academia, students have free access to the work of expert art historians, scientists, and anthropologists. Burgeoning screenwriters can share their work on message boards, amateur astronomers can video conference with scientists at the Gemini Observatory, and photographers can post their work on Instagram to receive almost immediate feedback. Whether they're passionate about birdwatching, opera, or archeology, 21st century students can reach out to experts and share work for feedback. Rather than widening the digital divide by blocking sites such as Facebook and YouTube, some districts are trying to facilitate these connections and help students use digital resources to learn from leaders outside of their immediate community.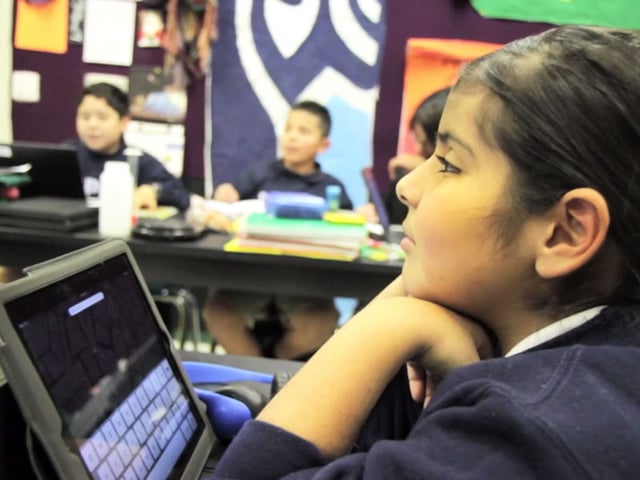 3. Nurturing grit in students is at odds with goals of educational equity
Throughout her talk at Loyola, Dr. Duckworth referenced fellow MacArthur winner Ta-Nehisi Coates. Coates, a writer whose work examines institutional racism, was cited by Duckworth as someone who exemplifies grit. Coates' award-winning article The Case for Reparations took him over two years to write, and he bounced back from being let go from the New York Times by writing two popular novels. Critics of Duckworth's research have bristled at Duckworth's reference to Coates, saying that Coates' dedication to social justice is at odds with the implications of researching character development. Some have argued that by prioritizing skills such as grit and resilience, educators are disregarding the opportunity gap and shaming students who speak out against systemic oppressions.
These critiques often neglect to recognize that while Duckworth encourages adults to develop grit and suggests that gritty teachers are the most successful educators, she says that it is ineffective and perhaps wrong to tell students that they must be gritty if they want to succeed. Instead, Duckworth argues that teachers and administrators must work to inspire passion in students and create a culture of growth mindset that will encourage students to persevere through failure or setback.
In the Q&A following her talk, Duckworth shared that during a recent call with Coates prompted by the criticisms leveled at Grit, the two discussed how "we can tackle structural change and individual change at the same time - it's not either/or." While grit can't replace the work that activists, advocates, and educators are doing to dismantle the structural barriers that marginalized students face, nurturing passion and perseverance in students may help narrow the achievement gap and provide students with a path to success even when the odds are stacked against them.