During Computer Science Education Week (CSEW), celebrated from Dec 7-13, students of all ages were encouraged to try their hands at coding for a full sixty minutes. This was part of a global movement, "The Hour of Code," organized by CSEW and Code.org. Challenging schools to host one hour sessions on computer science and programming, the Hour of Code project has successfully reached tens of millions of students in over 180 countries.
Jeanette Simenson, technology liaison at eSpark partner school Walt Disney Magnet in Chicago, shared how her school participated in Hour of Code 2015, explaining that Disney went above and beyond the challenge posed by CSEW and Code.org.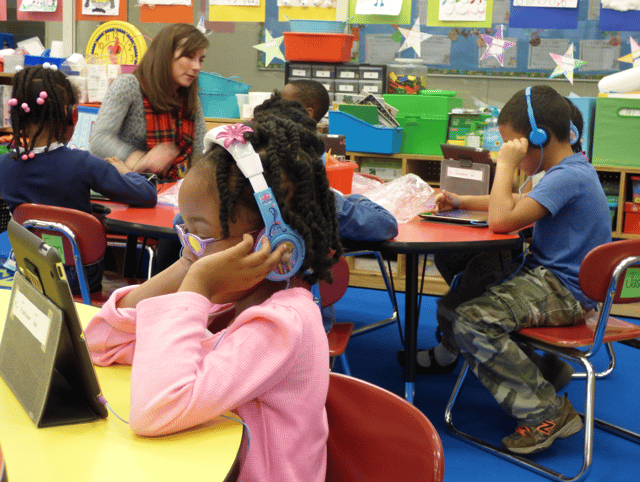 To celebrate Hour of Code 2015, the Chicago public school organized a special computer science program for their students, offering everything from an Argonne National Laboratories speaker about supernovas and supercomputers to a class where first graders helped program robots and then use their programming knowledge to guide the robots through a maze.
Simenson said the kids genuinely enjoyed the week and that it was wonderful to see such a wide range of students engaged in the various computer programming activities. "They asked many questions," Simenson said, "especially about the robots and supercomputers— they wanted to know everything!"
A highlight of the week was Parent Coding Night, an evening program where students helped their parents navigate the various computer science activities on code.org. "It was great to see the students actually teaching their parents," remarked Simenson. It's a rare — but infinitely valuable — experience for students because by playing the "teacher" role, students are able to feel a sense of empowerment and ownership over the material.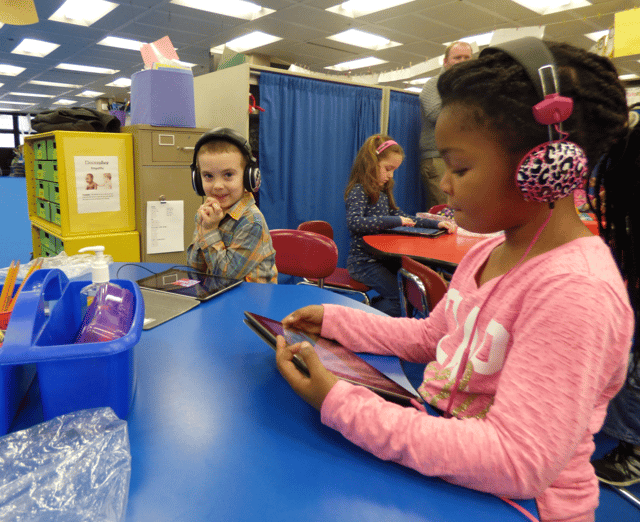 Beyond Hour of Code 2015
Many leaders in the fields of technology, computer science, and engineering are worried that schools don't prioritize coding despite it being one of the most useful and desirable skills in today's job market. Last week, Apple CEO Tim Cook spoke to a group of third graders visiting an Apple Store in Manhattan for a coding workshop, and he emphasized the importance of learning to code, especially at a young age.
"From an economic standpoint, the job segment itself today is huge, but it's going to become even larger," Cook said. There are many careers in STEM that don't even exist yet, but by having a strong foundation in computer science, students can prepare themselves for any future job in STEM.
Cook likened learning code to learning a new language — it's something that requires dedication, time, and practice to master. He expressed hope that schools nationwide will soon institute mandatory computer science classes.
At Disney Magnet, students practice coding at least once a week. "As part of the CS4All program that CPS has, we have students coding weekly on code.org in various capacities," Simenson said, referencing Chicago Public Schools' computer science education program. She believes that it's possible to integrate coding lessons and practice into many different subjects throughout the day, especially in math and science classes.
Even if students don't go on to work in a job that requires computer science abilities, learning to code teaches valuable problem solving skills and offers a new way for students to approach creative problem solving. These kinds of skills extend far beyond the classroom walls.