Looking for more wiggle room to invest in new educational technology initiatives? To track the flow of dollars from the Federal government to your state, visit your state's department of education website. For example, Michigan's site has a "Grants" tab where you can see recently posted news and announcements of Michigan school funding.
The site also recommends other tools to search for grants that might be available. Try GetEdFunding to find funding opportunities to supplement your school budget. You'll initially be faced with a huge list of grants to consider; in this case, a search for grants available for public Michigan education institutions lists 925 results (and displays an overload message). Don't worry! By applying filters, you can narrow the list down to a manageable list of grants that you're eligible for.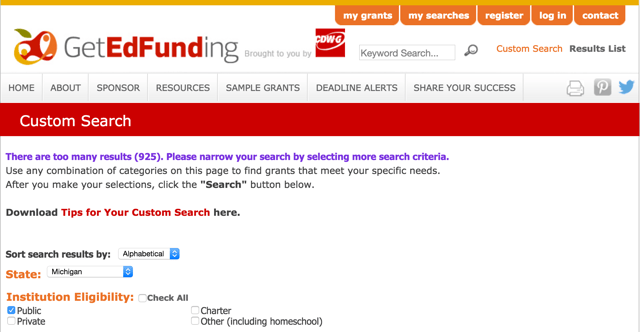 You'll definitely want to filter by "Grade Level" eligibility, but exercise caution when applying filters so you don't exclude a type of funding that is actually applicable to your program. Implementing just one filter to specify Pre-Kindergarten eligibility narrowed the Michigan search to 216 grants. You can then filter again by focus area, content area, and even 21st century themes/skills.
During your grant research, we recommend building a spreadsheet to collect the organization's name, grant name, eligibility requirements, funding amount and details, website, application deadline, and contact information. Taking the time to collect this information as you research will save you time in the long run as some of this information can be tricky to find online. In this Michigan example, targeted filtering got our list down to 16 applicable grants for Pre-K literacy initiatives. Scan the options and take notes on the few that have the highest probability of applying to educational technology initiatives.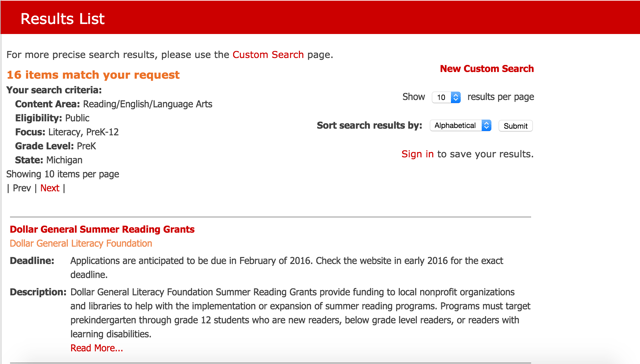 (Here is an example of how Madison Local Schools in Ohio was awarded a grant totaling almost $30,000 by the Middletown Community Foundation and The University of Cincinnati's FUSION Center to supply it's science department with an iPad program.)
GRANT WRITING 101
Once you have compiled a list of applicable grant sources, it's time to begin to consider how the iPad can be integrated into the daily instruction of your class/school/district. The clearer your plan is for implementing and sustaining the project, the more likely you are to receive the grant award. Funders want to know that their award is going toward a cause that can realistically be funded and implemented and that the administrators involved are committed to taking all the steps necessary to ensure long-term program success (with sustainability strategies built into the school budget).
Important points to include when writing your technology grant:
Daily iPad schedule- How will the iPad become a part of your school's daily classroom instruction? Be as specific and detailed as possible. Find activities that can be repeated throughout the year as a routine and that meet the qualifications listed below:

Activities aligned to standards- Both State/Common Core content standards as well as NETS technology standards.
Assessment of activities- How will you assess student progress in content objectives? Can the technology itself evaluate student progress?
Mobile learning curriculum you will use- What is the value of these apps/programs? How will they improve student achievement?

Professional Development- How will you train your teachers to use iPads effectively in their classrooms?
Deployment- How will the devices be synced and managed efficiently throughout the year?
Project evaluation- How will you evaluate the effectiveness of your grant? How will you measure growth in student achievement with the iPads?
(Here is another example of how one teacher wrote a successful grant proposal and got 32 iPads for her Chicago class!)
LAST MINUTE GRANT-WRITING TIPS
Start in advance! Writing a grant is a tedious process involving lots of research, forms to submit, and contact with different parties. You need to have the time to fulfill every task required by the foundation/corporation/government agency.
Be sure to contact your district's technology department and ask for approval. You don't want to start writing without knowing whether or not the district has already allocated school budget funds to another similar program.
Email or call the grant contact before writing the proposal to clear up any questions you have and establish a relationship with the listed contact. This way, you'll be a memorable candidate when he/she is making final decisions!
Research other award-winning schools' initiatives (if available) of the grant you are interested in. This will give you great context of what type of program the grant funding agency is looking to select. Also, look into finding reliable studies and data that support your initiative.