Webb's Depth of Knowledge is a difficult concept to grasp. A "frame of reference" rather than a strategy or series of actions, DOK is a way of categorizing the rigor or complexity of an assessment, question, or task.
The recent push towards more authentic assessments such as PARCC and Smarter Balanced has made Depth of Knowledge (DOK) a confusing but vital tool for educators across the country. In an effort to clear up misconceptions about higher-order thinking and to help educators prepare their students for next generation assessments, we polled over 80 teachers and administrators during a live webinar to learn what concerns are top of mind.

1. What 21st century skills are most important to your district?

We received a total of 34 responses to our first poll question, with 25 educators indicating that collaboration was prioritized in their districts. Media and Technology Literacy were also highly valued by the districts represented in our audience, while presentation skills seemed to be less of a focus.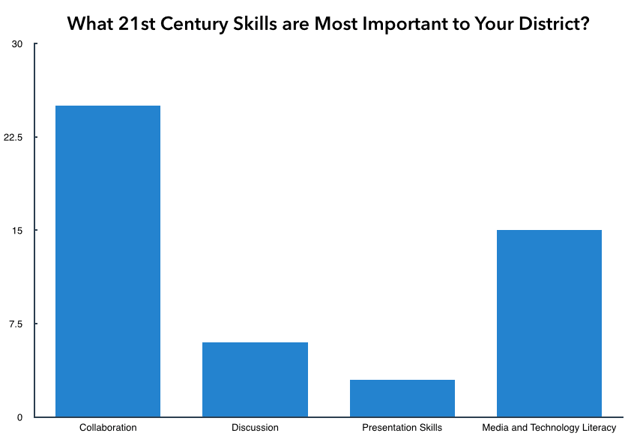 2. Which assessments does your district use?
The results of our second poll surprised us. Out of a sample size of 44 educators, the majority of attendees interested in the webinar on Depth of Knowledge did not come from schools that took next generation assessments. Nineteen educators in our audience worked in districts that administered the NWEA MAP assessment, and 25 of our audience members indicated that their district used an assessment other than PARCC, Smarter Balanced, STAR, or Let's Go Learn. These statistics might change substantially over the coming year. As educators and the Obama administration push for smarter, more efficient testing, many districts will need to revaluate their standardized testing strategy.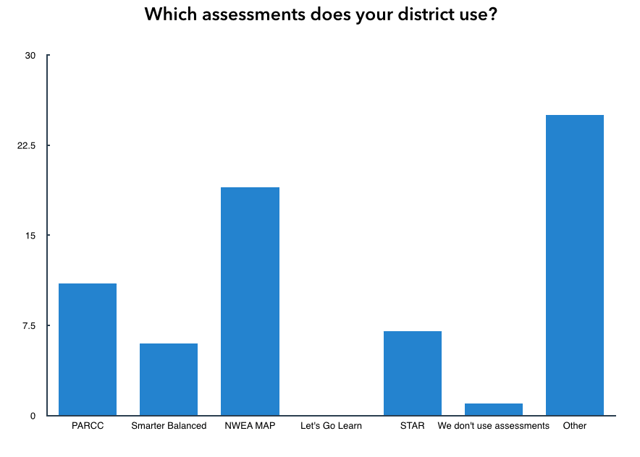 3. What is your biggest challenge in using the DOK framework?
When we polled our audience on their Depth of Knowledge pain points, we heard from educators that differentiating instruction and writing lesson plans can be challenging processes within the DOK framework. We get it, these activities are extremely time-intensive, but careful lesson planning and differentiation are crucial to ensuring that learning is student-centered. Using technology to modify lesson plans is a great way to streamline the differentiation process and to effectively reuse and improve past lessons.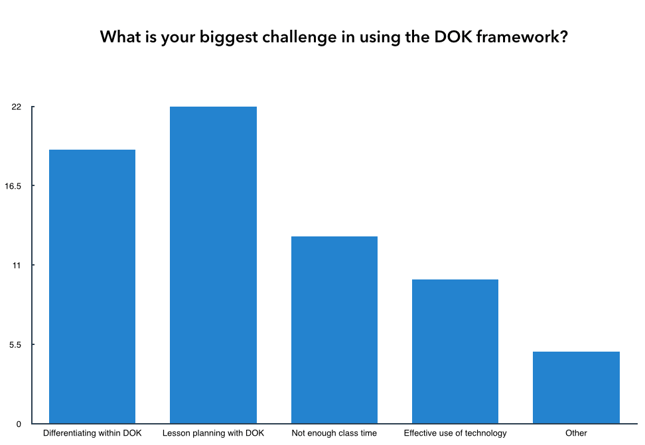 Q&A Highlights
After asking poll questions, we swapped roles with our webinar participants and allowed them to ask us questions. We've included highlights from the Q&A below with answers from Mary Ellen Mazza, an eSpark new partnerships associate.
Q: Are there any specific test taking strategies that you recommend for preparing for PARCC and Smarter Balanced?
A: Absolutely. Break the test apart into sections and have students practice timing as well as note-taking. Have students model how they would use mental math and notes to answer different questions for the class. I would also model what I would do if I was a student. Then, approach multiple choice questions in an individual, group, and whole class format to get at the strategic thinking in the questions. Students can create 3 columns: the first column they would independently write their answer to a question, the second would be the group consensus which you would have them share out with the class, and the third column would be the class consensus. Then have the class discuss which is the right answer and why.
Q: How can I modify these 3rd grade lesson plans for my 6th grade classroom?
A: In the beginning of the year, I would enact many of these lessons plans as is for a 6th grade room. To scaffold up, I would require more independent reading, change my question strategies, ask for more work to be done independently, and take away graphic organizers as students gain familiarity. I would have students do more on-the-spot thinking. Another way to scaffold up is modifying the way you teach vocabulary and limit how much modeling you do in the lesson.
Q: Where did you get (PARCC) Depth of Knowledge practice questions? Can my students practice online/can you use technology to practice?
A: I took these questions right off of the website. If you go to the PARCC or Smarter Balanced website, students can access practice tests at the different grade levels. I had students practice these ahead of time [before the test].
Q: Will these activities help my students prepare for other assessments (that aren't PARCC or Smarter Balanced)?
A: Definitely. I haven't seen all of the tests, but I have seen PARCC, Smarter Balanced, NWEA MAP questions and many more. All of the assessments coming out now require similar skills and cognitive processes. They are focusing on the concepts behind lessons and the ability of students to explain their reasoning.
Q: How can I make Webb's Depth of Knowledge more actionable for my classroom?
A: Start by recycling proven plans and procedures instead of trying to reinvent the wheel. You're in a good place if you ask students to practice skills in multiple ways and explain all of their thinking in writing. Make sure to require reflection and always allow time for the modeling of a thinking process. Simply having students talk through their own work on an Elmo or proudly share their process is asking students to think about their thinking.
Want to learn more about using eSpark? Click below to sign up for free.