A growing number of states have adopted Common Core State Standards (CCSS) in an effort to add clarity and consistency to the content students across the country are expected to learn. While educators have agreed to follow this new curriculum, the existing assessment tools to measure student progress still haven't caught up. Many tests are not aligned to the Common Core, requiring educators to do much of this legwork on their own. Let's dive into the Common Core and explore a process for aligning standards to third-party assessments commonly used by school districts.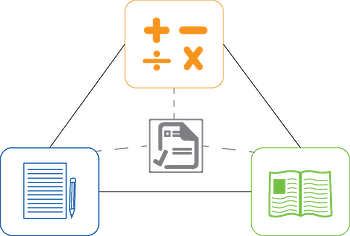 3 STEPS TO ALIGN AN ASSESSMENT TO CCSS:
Step 1: Understand nuances of Common Core
Step 2: Align strands on your test to Common Core domains
Step 3: Convert test scores to grade-level equivalencies
Step 1: Understand the Nuances of Common Core
Before examining your third-party assessments, it's essential to truly understand the Common Core and how each domain works across math and reading. An important point to recognize is that the structure and layout of the standards differs across reading and math. Reading standards have several nuances; first, the standards are built in a staircase and become increasingly more complex in each ascending grade as students build upon skills developed in their previous year of instruction. Reading comprehension domains are split into literature and informational text standards. This split places a strong emphasis on informational and non-fictional texts. Text complexity and diversity across types of texts are also represented in the standards; for example, the reading standards address myths, primary source documents, and historic texts. Additionally, foundational skills like decoding and sight words are all grouped into the same domain of Reading for Informational Skills.
The table below gives a preview of the layout of Reading Standards for Literature and Informational Text. The four categories of Key Ideas and Details, Craft and Structure, Integration of Knowledge and Ideas, and Range of Reading and Level of Text Complexity are all power standards, or key areas where students focus throughout grade levels. Within these, there are specific standards that follow students as they progress and continually increase in complexity to help students develop the skills over time.
Math standards, on the other hand, value both conceptual and procedural thinking and understanding. Many ask students to trace and justify their reasoning, think abstractly, and model answers with tools. Another component to note about math standards is that at grade six, the domain names change. There is an abrupt shift at the middle school level; from Kindergarten through fifth grade, the domains are pretty standard as students build foundational skills. You'll notice in the chart below that new subjects are introduced when they become relevant, such as fractions at grade three. At grade six, there is a complete shift as all domain names, except geometry, change. Students at this point begin using reasoning to solve problems and are asked to think critically. While some domains in math are only present at specific grade levels, the same domain names are consistent across all levels in reading.
Truly unpacking and understanding each of these Common Core standards can be a time-consuming process for educators. For even more information and resources about how to undergo this, visit this blog post about unpacking the Common Core with iPad apps.
Step 2: Align Strands to Domain
Now that you've dived into the Common Core, it's time to align the strands of the third-party test administered by your school to the domains we just reviewed. The skills in each domain share a common theme or conceptual framework. Many standardized tests also report student data in strands or domains, but the way the skills are grouped or named may be different from the Common Core. To align your test to the Common Core, you'll need to determine how the strands of your test correspond to the domains of CCSS.
However, not all tests have strands or domains. Some tests are created merely for summative reporting, like many state tests given only once in the spring. These tests usually just show a total score for each subject rather than breaking-down each subject into strands or domains, as you can see below in the ISAT. Tests such as this are usually used only for deciding whether a student can pass to the next grade level or whether a school met Adequate Yearly Progress.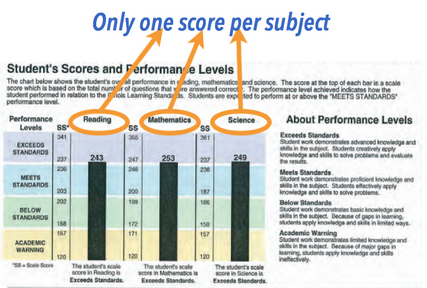 Unfortunately, these types of tests aren't useful in making instructional decisions. Since they don't break subjects down into strands or domains, you can't really identify what a student's strengths or weaknesses are within each subject. That means you don't really know what exactly a student needs to work on to improve the score, making differentiation difficult. If that's the situation you're in, you may consider getting approval to purchase and administer an assessment that does have strands or domains. These range in cost and mode of administration. You can explore adaptive tests such as NWEA MAP, iReady, Let's Go Learn, or Reading Inventories for Fountas and Pinnell Levels.
Many tests may say they're "Common Core aligned," but that doesn't mean their strands match-up exactly to the Common Core domains. Here's an example score report for a reading assessment. You'll notice that it has six strands. But the Common Core reading curriculum has only three domains. In this specific case, four of these strands are included in the same Common Core domain Reading Foundational Skills. To get a single score for Reading Foundational Skills, you'd have to average the four strand scores. The other two correspond directly to a Common Core domain.
Other times, you may have fewer strands in your assessment than the Common Core and you must divide them to apply to multiple domains. Whether you are combining your test's strands or dividing them (and sometimes you have to do both!) you'll want to make a map showing which of your tests' strands align to which Common Core domains. The map may just be in your head, or you may choose to draw it out for quick reference or for collaborating with other folks on your grade-level team. Simple names and arrows usually do the trick.
Step 3: Convert Test Scores to Grade-Level Equivalencies
Like most curricula, the Common Core State Standards are leveled. For each domain, there's a set of standards at each grade level. Once you align your test's strands to Common Core domains, and you know what your students' scores are for each domain, you need to assign a grade-level equivalency to the scores. That way, you'll know what level of the Common Core to reference when determining what each student is ready to learn next.
You may be using a test that already assigns grade-level equivalencies. If so, then there's really no work for you at this step. On the score report below, you can see each strand has a score in one column called "score" and a grade-level equivalency in another column called "placement." If your score report doesn't provide grade-level equivalencies, then you may be able to find a chart for that test online through a simple Google search like "NWEA grade-level conversion." Sometimes the testing company provides a chart as a separate resource. You can find your students' scores on this chart and identify the corresponding grade level for that score.
If you don't have either of those options, then you'll need to create your own grade-level equivalency based on what you know about the test. For instance, if your test is a third grade test that you've been giving for years, you may know that a score between 90 - 100% is indicative of a student who is performing on a fourth grade level.
You'll want to keep a record of these grade-level equivalencies for later reference or to share amongst other teachers in your building to standardize student evaluation. While aligning assessments to the Common Core is a big undertaking, it's important to take the time to adequately measure the progress of students in your school in relation to this new set of standards. For additional tips on aligning third-party assessments to the Common Core or to know how eSpark can do this for you, please feel free to contact us for more information.