As school closures continue across the country, we know teachers are searching for the best ways to support their students' ongoing learning from home.
We spoke with Jennifer Meliton, a principal at Elizabeth Forward School District, to find out how she's been utilizing online learning to benefit her students. Here are Jennifer's top 6 distance learning tips for how educators can implement successful distanced plans, transition to working remotely, and stay connected with the community.
1. Keep eSparking from Home!
Using eSpark at home has been awesome, and our kids are engaged K-5. It's helpful that we can see anyone who has not logged in, so that we can check in on them.
2. Utilize a Learning Management System
Having a learning management system has been paramount for our distance learning strategy. Teachers are putting their work out one day at a time. [This includes] videos, assignments, pages from text, and a conference feature where they video conference with the kids. Some teachers also send a daily email. Here is an example: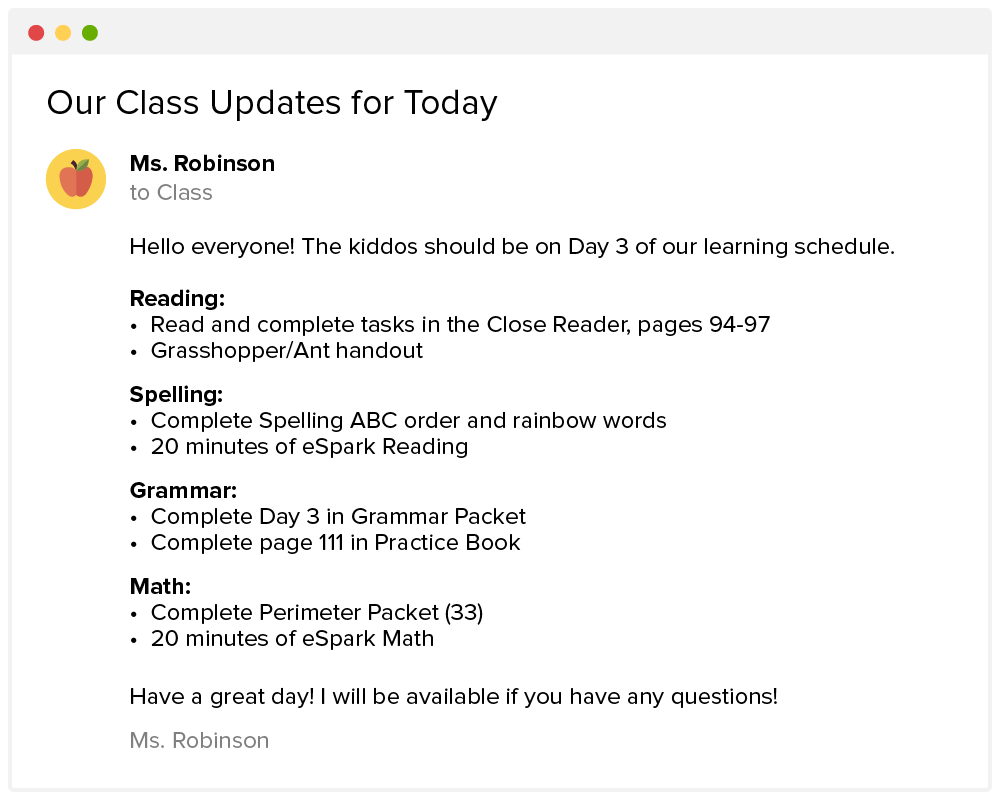 3. Use Google Hangouts with Your Team
I've been using Google Hangouts a few ways. Our Admin team has a Hangout at least once a day, allowing us face–to–face time to debrief and update. Just seeing each other's faces is a boost for us! We get to see pets, kids, and spouses—we feel human just by being able to have this chat time. People are kind of reserved at first, but once they get used to the format, they really open up.
4. Video Conference with Students
Most of our teachers have had video conferences with the kids, either as a group or 1:1. Our speech teachers are running groups, SPED teachers are doing 1:1, and we can talk to parents that way, too.
5. Call Parents to Check In
Most parents have my cell number, but teachers who are reluctant to call from their personal cell can use *67 to block their number. Power School allows us to call, text, or email parents, so I have been doing a lot of that. Today, I called to have people without Wifi check in with us - we want to be sure every family has access to the internet.
6. Keep Up with Social Media
We are huge social media users, especially Twitter. I have live story time every night around 7 PM, where I read a story and let people vote on a story for the next day. It's been a huge hit! We also check in on our local Facebook groups to see if there are questions or concerns. People really feel connected, because there is a way for literally everyone to reach out to us.
If you have any other successful distance learning tips, we'd love to hear them! Reach out to us on Twitter or Facebook to share your ideas or leave them below.